About Us

A Continuing Tradition


John G. Stikeleather, Jr. followed in the footsteps of his father, Grier, who built 1,200-to-1,400-square-foot tract houses in the 1950's. In 1975, Grier retired and John continued on his own, gradually progressing to finer homes and custom homes.


In 1989, John III, a third-generation licensed home builder, joined his Father. The duo not only strives to make the architect's plans come together on a new construction - they take pride in renovating homes as well.

"We don't want people to think building larger
homes is all we do," John says. "We are just as happy building a 1,500-square-foot house or remodeling an existing one."

The commitment to make the homeowner's vision a reality in a cost-effective way – while providing the highest quality of workmanship –  is the goal of Stikeleather Builders.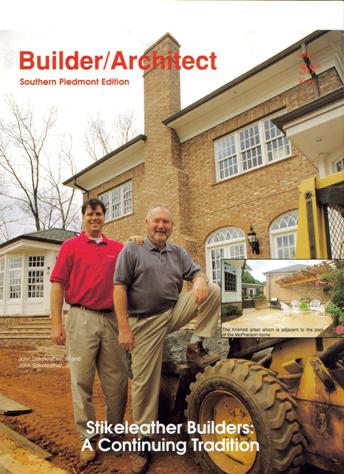 John Stikeleather III and John Stikeleather, Jr.


"What Our Customers Are Saying..........."
"John really builds a good quality home, with good materials, and coordinates the whole process extremely well. It was a pleasure for my wife to work with John on a day-to-day basis."
Dr. Keith Gatlin, Statesville Cardiologist

"The Stikeleathers do not get frustrated about anything. Getting the wrong builder is like getting the wrong interior designer. Ultimately, the house has to look as you envision - not the way the designer thinks it should. I just knew we were on the same wavelength."
Susan N. Tolle, Statesville Resident

"John always works with you, to help figure out a way for you to have everything you want. But the main reason we chose Stikeleather Builders is that everyone told us, 'You'll still be friends even when you've finished building your house.' And we are!"
Linda Dawburn, Statesville Resident



It goes without saying custom home builders are only as good as their reputation, which means the Stikeleathers should never have cause for concern.